Shock, amaze and wow your friends with the Ultimate Fancy LEDs crazy patterns and bright colors. Our Ultimate Fancy LEDs are chipped differently, they are the secret to the crazy patterns and sound activation modes seen on our socials. Connect to our easy to use Bluetooth app for Android or Apple phones and you are ready to go! 
Combine with LumisLab Sunset projector™ for the perfect atmosphere!
This BlueTooth LED Light Tape is the perfect addition to any home decor. The flexible ribbon of lights can be placed under or around furniture and shelves to add a beautiful ambience LED glow to the room. The light color can change to fit any mood!  
INCLUDED:
LED Strip Roll 💧 waterproof
Charger & Adapter
Wireless Controller 
Control the mood of your room using just your smartphone with our BlueTooth LED Light Tape! Dozens of lighting options & 16 million color choices will instantly light up your life! 

16 Million Colors
40+ Lighting Modes
Easy BlueTooth Color Control
Can Display One Color At A Time
Eas To Install And Use
Flexible ribbon with a powerful adhesive backside. Easily sticks to clean and flat surfaces.
Control With Your Phone
Connect your lights to our app via Wi-Fi for even more fun and existing functionalities. Compatible with iOS and Android devices.
Sync With Your Music
Sync your lights with your music to allow colours to change with the beat. Perfect for parties!
Voice Control
Turn your lights on and off, change colours and modes with simple voice commands.


Just Stick, Cut, and Enjoy!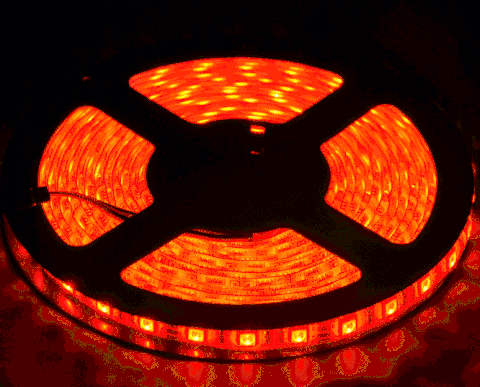 If you need help with the installation you can consult our installation page by clicking on : Installation